I include products I think are useful. If you buy through links on this page, I earn a small commission
In the past, my kitchen was in a state of perpetual chaos and disarray. No matter how hard I tried to keep it clean and organized, items from day-to-day life seemed to always end up on top of my kitchen table – making it look like an overflowing stationery cupboard. Until I made the simple decision to dedicate some time to decorating my kitchen table.
When a space is decorated, people are more hesitant to add items and mess it up (myself included). It becomes a work of art to be admired, respected, and appreciated. It immediately creates a different atmosphere around the table – one of calmness and beauty. To keep this space fresh I am constantly changing my kitchen table centerpiece. The possibilities are truly endless when it comes to centerpiece ideas and I'm always excited to explore each season's trends.
Rather than purchasing new kitchen table centerpieces each time I switch up my décor, I make my own or find. This allows me to be creative and have complete control over the look and feel of what's on my table. Here are a few ideas for kitchen table centerpieces that are perfect for everyday use.
DIY Kitchen Table Centerpiece Ideas For Everyday
The Zen Kitchen
If your aesthetic is more minimalistic and simplistic, then this Zen kitchen table centerpiece is ideal. This style uses natural elements such as stones, wooden trays, and plants to create a tranquil space. A large wooden tray with leaves, stones, or candles can work, or even an array of succulents is the perfect addition to any kitchen table, or select a few different types of stones arranged in an interesting pattern.
Tip: Goodwill and thrift stores are great places to find unique and inexpensive wooden trays, artificial plants, vases, or dishes that can be repurposed.
DIY Submersible Green Leaf Centerpiece
Materials
Cylinder Glass Vases
Large Artificial Leaves (or real ones if you have any)
Water
Instructions:
Fill the glass vases with water and place the artificial leaves in them. The result is an instant centerpiece with a hint of nature that is sure to bring a sense of serenity and peace.
My Material Suggestions on Amazon
The Rustic Kitchen
If your kitchen style is more rustic, then a mason jar filled with wildflowers surrounding a cluster of pillar candles is just the thing for you. Mason jars are easy to find, and you can use any type of flower to create the look you want.
Getting creative with mason jars is the best way to go when considering a rustic kitchen table centerpiece. You can add fairy lights, strings of dried flowers, or other rustic elements to create a stunning and unique look.
My Rustic Amazon Finds
The Colorful Kitchen
For the kitchen that's always vibrant and full of life, try a centerpiece filled with bright colors. A great way to do this is by arranging cut flowers in a large bowl or using colorful plastic fruits such as oranges, limes, lemons, or grapes.
This is also a great way to add a pop of color to a neutral-toned kitchen. The vibrant colors will draw people to the table and make it an inviting place to gather.
My favorite is the rainbow babies breath kitchen centerpiece idea, see the video tutorial for that here!
The Modern Kitchen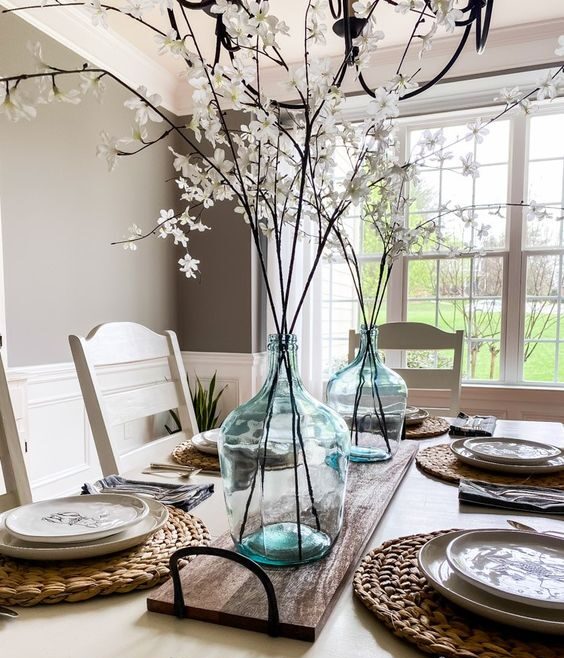 For a modern look, choose a centerpiece with a geometric design. A simple and affordable way to create this is by using glass vases or bowls filled with water and floating candles or petals.
To add even more sparkle to the table, use glittery stones or marbles in the water. You can also use a combination of vases and candles to create a striking centerpiece that will surely make a statement.
My Modern Amazon Finds
The Minimalist Kitchen
If you're looking for a more minimalistic style, try keeping things simple with a single candle or small dish of flowers at the center of your table. The beauty of this approach is that it doesn't take up much space and won't add clutter to the kitchen.
The key to making this style work is to choose classic shapes and colors that won't overwhelm the space. A white candle or clear vase with a few sprigs of greenery will do just the trick.
The Contemporary Kitchen
For a contemporary centerpiece that stands out, try using metallic accents. This could be anything from silver or gold vases to copper mugs filled with fresh flowers. Add some greenery and you'll have a stunning and unique table setting for any day of the week.
---
The possibilities are endless when it comes to creating a DIY kitchen table centerpiece. With a little imagination and creativity, you can create the perfect style that reflects your taste and adds character to your kitchen. So, get creative and start experimenting!
If you need more ideas check out my Pinterest board for DIY Kitchen Table Centerpiece Ideas.
Happy homemaking!